Cell Phone/Texting While Driving Violations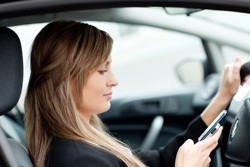 The Law Offices of Davis & LaScola frequently represent clients charged with cell phone violations in Chicago and surrounding areas. The use of a wireless telephone in a motor vehicle is governed by 625 ILCS 5/12-610.1. The State of Illinois prohibits drivers from using their cell phone if the driver holds a learner's permit, is under the age of 19, or is a school bus driver. Additionally, no person is allowed to use a cell phone in a school or construction zone. Localities in Illinois are permitted to ban any handheld use of a cell phone for all drivers. The City of Chicago bans the use of a cell phone. Texting while operating a motor vehicle is prohibited in Illinois.
Effective July 20, 2012, the statute was amended to prohibit anyone, at anytime, regardless of age, from using a wireless telephone while operating a motor vehicle within 500 feet of an emergency scene. An emergency scene is defined as a location where an emergency vehicle is present and engaging its oscillating, rotating, or flashing lights. The reporting of an emergency situation is a listed exception to the statute.
Effective January 1, 2013, the Illinois Vehicle Code was amended to prohibit texting and limit cell phone usage by commercial drivers (CDL holders)(625 ILCS 5/6-500 and 5/6-525 new, 5/6-527 new). A conviction is considered a "serious traffic violation" for CDL purposes. CDL drivers may not text while driving a commercial motor vehicle. In addition, a motor carrier may not allow its drivers to text while driving (this includes while the vehicle is temporarily stationary). The definition of texting is very broad and includes entering OR reading text from an electronic device and includes web browsing. Texting in order to communicate with emergency services is a listed exception. In addition, a driver may use GPS navigation systems and may press a single button to start or end a call
If you have been charged with a cell phone violation including using a cell phone in a construction/maintenance zone or school zone contact the attorneys at the Law Offices of Davis & LaScola to discuss your case.