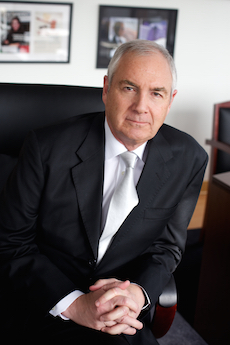 Larry A. Davis



Larry A. Davis graduated from Northwestern University (B.A. cum laude, 1973) and DePaul University (J.D. cum laude 1976).
He is currently a principal of The Davis Law Group, P.C. in Northfield, Illinois. Mr. Davis was previously an attorney and hearing officer with the Secretary of State between 1976 and 1981.
His practice is now concentrated in the area of DUI and administrative hearings before the Secretary of State. He was a co-drafter of the Illinois Summary Suspension Law and has represented the ISBA in legislative negotiations for the last 20 years.
Mr. Davis is a current chapter author of the IICLE's handbook on Defense of DUI and is also the author of eight articles in the Illinois Bar Journal, Application of the Illinois Summary Suspension Law(May, 1988), Constitutional Implications and Developments in the Illinois Summary Suspension Law (January, 1991), Representing Revoked or Suspended Drivers Before the Secretary of State (November, 1996), New DUI, Traffic Laws Stiffer Penalties(December, 2001), Representing DUI Revoked or Suspended Drivers Before the Secretary of State (June, 2002), Demystifying Illinois DUI Sentencing(July, 2009), The Monitored Device Driving Permit: What Practitioners Need to Know (October, 2011), and The Medical Cannabis Act and Illinois DUI Law(March, 2014). He was co-editor of the Traffic Laws & Courts Newsletter, a publication of the Illinois Bar Association, for which he has also authored numerous articles.
Mr. Davis has lectured on the topic of traffic laws for the CBA, ISBA, IICLE, Cook County Public Defender's Office, Lake County State's Attorney's Office, Northwest Suburban Bar Association, DuPage Bar Association and McHenry County Bar Association and the Illinois Traffic Conference. He has also been involved in regional legal training for law enforcement officers.
He is past chair of the Traffic Laws & Courts Section Council, Illinois State Bar Association and past chair of the Traffic Laws Committee of the Chicago Bar Association. He has also been a member of the 2000 Traffic Safety Advisory Committee to Secretary of State Jesse White and a member of an advisory committee to the National Highway Traffic Safety Administration.
If you seek effective and knowledgeable representation in a DUI, traffic or other criminal matter, we look forward to hearing from you. Explore our web site and contact us online to learn more.
Client Reviews
Mr. Brandon Davis, THANK YOU for everything you did! I know you are a busy man. You far exceeded our expectations! I am so glad my wife went with her "gut". God Bless you. Again, thank you Brandon. GOD BLESS,
M.C. and L.C.
Just wanted you to know all was completed today. Thank you very much for your efforts to allow me to obtain my driving privileges once again. This has been a stress reliever to say the least. Thank you again for your efforts and I will be sure to recommend you in the future.
T.Q.
Hi Brandon, Thank you again so much for everything. You made that whole situation nearly painless. I sincerely hope I never require your services again but I will definitely recommend you to anyone who does. All the best,
K. L.
Hi Larry, I just wanted to let you know that I got my Class D driver's license back. Thanks for your help, I couldn't have done it without you. You're the best and I'll recommend your law firm to anyone and everyone I can. Thanks again,
T.S.
Hello, I wanted to thank you for all the help in restoring my driving privileges. It was a long road here, but for the first time since 2006 I have a license. I assure you I will have no need for your services again, however I will be sure to refer anyone in my situation to you. Thank you for all your help, it is life changing. Best,
M.R.