Speeding in a School Zone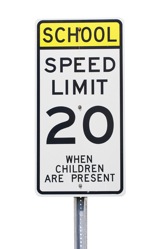 Our attorneys commonly represent clients charged with Speeding in a School Zone and other similar traffic offenses in Illinois.

Under Illinois law (ILCS 5/11-605), there are enhanced penalties for speeding in a school zone. The statute prohibits motorists from driving faster than 20 mph while passing a school zone on a school day when children are present. A school day is from 7 a.m. until 4 p.m. The statute requires that appropriate signs be posted where the school zone is located. A first violation of the statute is a petty offense with a minimum fine of $150. A second or subsequent violation is a petty offense with a minimum fine of $300 (the statute calls for an additional $50 which is paid to the school district).
Due to the high fines and costs associated with this offense, it is often beneficial for a defense attorney to negotiate an amendment to this charge when appropriate. The Davis Law Group, P.C. frequently handle a variety of speeding charges throughout the Chicagoland area. Feel free to contact us if you have received an Illinois traffic violation.