Speeding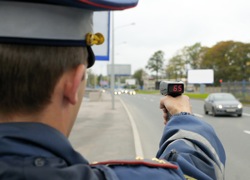 The traffic ticket attorneys at
The Davis Law Group, P.C.
represent clients charged with speeding throughout Illinois. Our attorneys primarily handle cases throughout the Chicagoland area including Cook, Lake, DuPage and Will Counties. Speeding tickets will not only have an impact on your insurance rates, but can effect your driver's license as well. Simply paying your traffic ticket could be a costly mistake. If you received a speeding ticket in Illinois, contact our firm to discuss your options.
Penalties for speeding tickets differ depending on the type of speeding offense alleged. The speeding ticket lawyers at The Davis Law Group, P.C. are extremely familiar with all variations of speeding violations from petty offenses to misdemeanor "aggravated" speeding charges (speeding 26 or more over the limit). We are experienced with the ever-changing traffic laws in Illinois and understand the best way to protect our clients' driving privileges.
Common speeding charges in Illinois include the following:
Standard, petty speeding tickets are charged under 625 ILCS 5/11-601. Multiple speeding ticket convictions can result in the suspension of your Illinois driver's license (click here for more information on moving violation suspensions). Speeding tickets may also result in expensive court fines, traffic school, and insurance rate increases.
Contact the Illinois traffic ticket attorneys at The Davis Law Group, P.C. Our attorneys provide the legal representation you deserve. Professional representation can alleviate much of the stress that goes along with receiving a traffic violation. Our attorneys can assist with traffic tickets issued in Chicago and throughout Illinois including Lake County, Cook County, and DuPage County. We look forwarding to speaking with you to discuss your case. Contact our office today.