Concealed Carry Offenses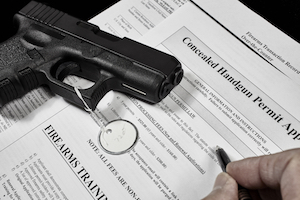 Illinois Firearm Concealed Carry
Effective July 9, 2013, the Illinois Firearm Concealed Carry Act ("FCC Act") requires that the Illinois State Police issue a concealed carry license ("CCL") to a person who meets specific statutory requirements. If eligible for a CCL, a person may carry a concealed handgun on or about his person, in public or within a vehicle, subject to limitations. The CCL is valid for 5 years.
What Qualifies as a Handgun?
According to 430 ILCS 66/5, a handgun is defined as any device designed to expel a projectile by an explosion, expansion, or escape of gas that is designed to be held and fired with one hand.
This definition eliminates machine guns, short-barreled rifles, shotguns, stun guns, tasers, pneumatic guns, spring guns, paint bal guns, and some BB guns from CCL eligibility.
CCL Eligibility
To be eligible for a CCL, an applicant must:
Have a valid Firearm Owner's Identification Card ("FOID");
Be 21 years of age or older;
Have no felony convictions;
Have no domestic battery convictions;
Never have been involuntarily admitted to a mental health facility;
Never have been adjudicated mentally or developmentally disabled;
Not have a pending Order of Protection; and
Not have a pending criminal case or pending arrest warrant for an offense that would disqualify the applicant upon a conviction.
If an applicant is subject to any of these limitations, they will be barred from a CCL. If not, the Illinois State Police shall issue a CCL to the applicant.
Five Year Prohibition on CCL Eligibility if:
The applicant is convicted for a violent misdemeanor crime;
The applicant is convicted or received supervision for 2 or more DUI's;
The applicant has been admitted to an inpatient mental health facility;
The applicant has been treated for alcoholism or drugs; or
The applicant is determined to be a danger to self or others by outpatient treatment.
One Year Prohibition if:
The applicant has a misdemeanor cannabis conviction within the past year.
If the above limitations do not apply to the applicant, the Illinois State Police will issue a CCL after the applicant:
Pays a $150 fee
Completes 16 hours of Illinois State Police approved training;
Submits to fingerprinting;
Waives all privacy and confidentiality rights to all court and mental health records;
Submits a photo taken within the past 30 days; and
Provides a valid Drivers License or ID number.
Areas CCL is Prohibited
CCL holders cannot carry the handgun into a building that prohibits firearms, or on the real property or parking lot of property prohibiting firearms. 430 ILCS 66/65. These areas are the following:
Airports;
Public transportation;
Colleges and universities (unless school authorized);
Certain public gatherings, like street festivals (may pass through to get to home, business or vehicle)
Pre-schools, elementary schools, or secondary schools;
Child Care facilities;
Playgrounds;
Public Parks controlled by a municipality or a park district (bike paths are excluded from restriction.);
Cook County Forest Preserve property;
Bars and Restaurants where 50% of gross receipts come from liquor sales;
State or local government buildings;
Libraries;
Hospitals, mental health facilities, and nursing homes;
Stadiums and sports arenas;
Racetracks, Riverboats, and off-site betting facilities;
Zoos, Museums and Amusement Parks;
Nuclear Facilities (includes vehicles on the all facility property);
Private property if prohibited by the owner (Owner MUST post sign unless it is a residence)
The majority of the above listed areas are not required to post a sign warning the CCL holder that the area prohibits firearms. Except for bars and restaurants where liquor sales are 50% or more of gross receipts, a CCL holder will not be in violation if on private property that does not post a sign prohibiting firearms. However, a CCL holder could still be arrested if a sign is not posted.
Prohibited Areas and Vehicle Safe Harbor
Except for Nuclear Facilities, a CCL holder can drive onto a prohibited area with the firearm on their person and store the firearm in their vehicle. The requirements are that:
The firearm is stored in a case;
The firearm is out of plain view;
The firearm is locked in a vehicle or within a locked vehicle trunk; and
The firearm is in a parking lot.
*NOTE: The CCL holder cannot leave the vehicle with the firearm except to bring the unloaded firearm to the trunk of the vehicle.
Concealed Carry License VIOLATIONS and PENALTIES:
Carrying Firearms onto Prohibited Areas:
1st offense is a Class B misdemeanor (punishable up to 180 days in jail)
2nd offense is a Class A misdemeanor (punishable up to 364 days in jail) and up to a 6 month CCL suspension.
3rd offense is a Class A misdemeanor and results in permanent revocation of the CCL.
Failure to Carry Concealed Carry License while Concealing or Possessing Firearm: If a CCL holder carries a concealed firearm on or about his person or within a vehicle, the holder must also carry the physical Concealed Carry License. A violation is a Class B misdemeanor (Class A if for a subsequent offense) 430 ICLS 66/10(g).
Exceptions:
The CCL holder need not carry the license on person if on his/her land, abode, legal dwelling or place of business, or if on the same property of another as an invitee with that person's permission.
The CCL holder need not carry the license if the firearm is broken down in a non-functioning state, not immediately accessible, unloaded and in a case.
Failing to Disclose CCL to Police: During a traffic stop or investigative stop, a police officer may inquire as to whether a person possesses a CCL. At this point, a CCL holder must disclose that they have a CCL and show the CCL if on their person or vehicle. Failure to comply is a Class B misdemeanor offense (Class A offense if for subsequent offense) 430 ILCS 66/10(h).
Failing to Disclose Location of Firearm: During a stop, a CCL holder must disclose the location of a firearm if on their person or in their vehicle. 430 ILCS 66/10(h). Failing to comply with the police officer's request is a Class B misdemeanor (Class A if a subsequent offense).
Carrying a Concealed Firearm while Intoxicated: It is illegal to carry a concealed firearm with a BAC of .08 or greater, while impaired by alcohol and/or drugs, or with the presence of illegal drugs in a CCL holder's system.
A 1st Offense is a Class A misdemeanor (up to 364 days in jail).
A 2nd Offense is a Class A misdemeanor and up to a 6 month suspension.
A 3rd Offense is a Class 4 Felony (punishable up to 1-3 years in prison) and permanent revocation of CCL.
Possession of a Revoked Concealed Carry License: If a CCL is suspended, revoked or denied from renewal, the CCL holder must surrender his/her license within 48 hours of notice to local law enforcement. 430 ILCS 66/70(g). A violation of this law is a Class A misdemeanor (punishable up to 364 days in jail).
Failure to Notify Illinois State Police of Address Change: It is the CCL holder's obligation to notify ISP of an address change. Failure to do so is a Petty Offense (non-jailable) with a $150 fine.
Failure to Notify Illinois State Police of Lost, Destroyed or Stolen CCL: It is the obligation of the holder of a CCL to notify law enforcement within 10 days of discovering the license cannot be located. Failure to do so is a Petty Offense (non-jailable) with a $150 fine.
Non-Illinois Residents and Concealed Carry Law: Illinois does not have automatic reciprocity with other states in regard to concealed carry laws. However a non-resident with a non-Illinois concealed carry permit may transport a firearm through Illinois within a vehicle. The firearm must remain within the vehicle at all times and the firearm must be out of plain sight, within a locked vehicle if unattended. Non-residents with out-of-state concealed carry permits have a duty to inform law enforcement officials of the presence of the firearm if stopped.
A non-resident can apply for an Illinois CCL, but the concealed carry laws of the non-resident's home state must be similar to the Concealed Carry Act. If applying, the non-resident will be subject the same requirements as Illinois applicants, and must pay a $300 application fee.
One exception to the above limitation is that a non-resident may transport firearms in Illinois if the non-resident is from a state that has "unrestricted" concealed carry laws and is over 18 years old. Currently, such laws apply only in Alaska, Arizona, Arkansas, Vermont and Wyoming. Residents of these jurisdictions are still subject to the same requirements of the Illinois Firearm Concealed Carry Act.
Contact the criminal defense attorneys at The Davis Law Group, P.C. if you are charged with a CCL-related offense. Our attorneys have an understanding of the complex laws surrounding concealed carry in Illinois. Let us put our vast experience to work for you.