Approaching Disabled Vehicles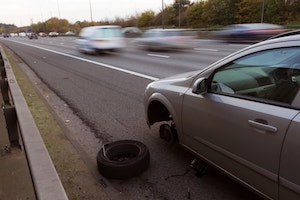 Under Illinois law (625 ILCS 5/11-907.5), when approaching a disabled vehicle with hazard lights on a four-lane highway (at least two in each direction), a driver must proceed with due caution, make a full lane change away from the disabled vehicle so long as it is possible with regard to safety and traffic conditions. If it is is impossible or unsafe, the driver is required to proceed with due caution, reduce speed and maintain a safe speed for road conditions.
Failure to yield to a disabled vehicle is an expansion of Illinois' "Move Over or Scott's Law" law, which previously only required this action for emergency vehicles until these changes became effective January 1, 2017. Failure to comply with this law is a moving violation and charged as a petty offense.
If you have been issued a ticket in Illinois for with failure to yield to a disabled vehicle, contact the attorneys at The Davis Law Group, P.C. We understand the effect a conviction can have on your driver's license and insurance and are often able to minimize or completely avoid those negative consequences. Our lawyers represent clients on a wide range of traffic tickets, primarily throughout Cook County, Lake County and DuPage County. We would be happy to discuss your case today.