Illinois Traffic Ticket FAQs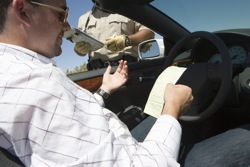 What Should I Do if I Am Stopped for a Traffic Ticket in Illinois?
Pull over in a safe manner as soon as reasonably possible. Put your vehicle in park, and turn off your engine and radio. Turn on your overhead light if it is dark outside, keep your hands visible (i.e. on the wheel), and roll down your window. It is usually best to wait to take out your driver's license and insurance once requested by the officer. Any actions, such as reaching into your wallet, center console, or glove compartment may be considered 'furtive' movements by the officer.
Although being stopped by a police officer can be a frustrating and stressful experience, remain calm and friendly. Your attitude is extremely important during this process and can influence the ultimate resolution. Do not make excuses or argue with the officer.
If the officer asks you if you know why you were stopped, do not admit guilt. It is very possible that you are being recorded with video and/or audio and this evidence can later be used in court. Politely let the officer know that you are not sure why you were stopped.
If the officer claims that you committed a traffic violation, ask if he/she would consider issuing a warning rather than a traffic ticket. If the officer decides to issue you a traffic ticket, you should contact a traffic attorney while the details are still fresh in your mind to discuss the situation and your options.
---
Do I Need a Lawyer for an Illinois Traffic Ticket?
You should always seek legal advice from an attorney when it comes to handling an Illinois traffic ticket. A driver should not step into court without understanding their options and the consequences of a conviction. In Illinois, it is typically not required that you retain the services of a traffic lawyer unless your traffic ticket rises to the level of a criminal offense (i.e. Speeding 26+ over the posted speed limit). Regardless, legal representation even on a petty traffic offense can make a world of difference depending on the specific circumstances surrounding your case.
Receiving a traffic ticket and appearing in court can be a stressful ordeal. An experienced Illinois traffic ticket attorney can help guide you through the process and often achieve the best result possible. An attorney may be able to reduce or completely eliminate the negative effects on your driver's license.
---
Do I Have to Attend Court?
In Illinois, your traffic ticket should indicate whether a court appearance is required. However, typically, with certain exceptions, you only have to appear if a conviction of the offense may result in possible jail time or automatic license suspension. Regardless, it is important to understand that simply mailing in payment for your moving violation is a plea of guilty, which will result in a conviction unless otherwise indicated. Convictions are entered on your public driving record with the Secretary of State, resulting in insurance increases and counting toward license suspension. A conviction may even affect current or future employment consequences. Except under very rare circumstances, DO NOT mail in payment for your ticket.
If you are unable to appear on your court date, depending on your specific charge, it may be possible for an attorney to appear on your behalf. An attorney may be able to resolve the matter without you attending court. In addition, it may be possible to have the court date changed with the judge's permission or through the clerk's office. You should speak with an experienced traffic attorney to discuss the options available to you.
---
Will an Illinois Traffic Ticket Affect My Auto Insurance Rates?
Your insurance rates will likely increase after receiving a conviction for an Illinois traffic ticket. Typically, your insurance rates will not increase if your traffic ticket is dismissed, you are found not guilty, or if you are placed on court supervision because the offense is not reported on your public driving record. Increases in your insurance premium depend on the nature of the traffic violation and your specific insurance policy. Speak with a Illinois traffic ticket attorney or contact your insurance provider to find out the potential consequences on your auto insurance.
---
Will My Illinois Driver's License Be Suspended?
Traffic tickets may result in the suspension of your driver's license. In Illinois, drivers 21 years of age or older with three moving violation convictions within 12 months will have their license suspended for 3 months or longer depending on the nature of the violations. Additionally, the length of suspension may be longer if the driver has been suspended previously. In certain cases, three violations may result in a revocation of your license, depending again on the nature of the violations.
Drivers under 21 years of age face a driver's license suspension for two moving violation convictions in 24 months. Also, it is important to note that driving on a suspended or revoked license is a criminal charge carrying with it serious potential consequences.
A conviction for certain offenses (i.e. failure to yield to an emergency vehicle or passing a stopped school bus) will cause an automatic license suspension in Illinois. When facing a potential license suspension, attending court with an experienced Illinois traffic attorney is critical.
---
Can I Attend Traffic Safety School?
If you have a fairly clean driving record, you may have the option of taking traffic school and receiving court supervision for your moving violation. Completing the requirements for traffic school will prevent a conviction from being entered on your public Secretary of State driving record. Often, with certain exceptions, you must still appear in court to receive such a disposition. Although you may be given to the option of requesting traffic safety school by mail, there is no guarantee that it will be granted. If you are not eligible due to your previous record, a conviction may be entered. Regardless, traffic school requires spending time and money that many drivers would like to avoid. It may be possible to avoid traffic school altogether by attending court with an experienced traffic ticket attorney.
---
I Received Court Supervision Earlier This Year, What Will Happen in Court?
Technically, a driver is eligible under Illinois law for court supervision twice for offenses occurring within a 12-month period. However, there is no guarantee that you will be offered court supervision by the prosecutor or sentenced to court supervision by the judge under these circumstances. In fact, if you are still on supervision for a traffic offense when you are ticketed for a new offense, the prosecutor can file a violation of your supervision and seek resentencing on the original charge (i.e. entry of a conviction). If you have previous moving violations within the past year, it is highly advisable to contact an experienced traffic ticket lawyer to help you achieve the best result possible.
---
What Happens if I Do Not Pay My Traffic Ticket or Court Fines?
The worst decision you can make is to simply ignore or refuse to pay an Illinois traffic ticket. If you fail to pay the required fines associated with your traffic ticket within the required time or request a court date, a conviction may be entered (i.e. ex parte conviction). Every county has different procedures, which must be followed. Convictions can lead to license suspension, maximum fines, and increased insurance rates. In fact, the Secretary of State will not allow you to renew your license until all tickets on your record are paid. A motion may be filed within a certain time-frame in an effort to remove the conviction and resolve the case favorably. If you appeared in court and failed to pay the fines and costs ordered by the judge, a motion may need to be filed to seek the reinstatement of your original sentence (i.e. court supervision) or terminate your case successfully. Speak to an Illinois traffic ticket attorney if you failed to pay your traffic ticket to discuss your options.
---
What Should I Do if I Missed My Court Date?
If you are required to appear in court and you miss your court date, there are several possibilities. Depending on the type of case, including certain traffic violations, a warrant may be entered. If a warrant is entered, it should be quashed and recalled immediately before it is executed. If a conviction is entered, your attorney may need to file a motion to re-open the case so it may be resolved properly. Failing to appear in court can cause a driver's license suspension. In addition, a "failure to appear" on your Secretary of State driving record must be removed before your driver's license can be renewed. Speak to an Illinois traffic ticket lawyer if you missed your court date to discuss your available options.
---
What Are My Options if I Am a CDL Holder?
As a CDL holder, it is highly advisable that you speak to an Illinois traffic ticket attorney immediately after receiving an Illinois traffic ticket. CDL holders are held to a higher standard and face more serious consequences than other drivers. Traffic tickets may have employment consequences, affecting your personal and professional life. Court supervision on a traffic ticket in Illinois will NOT prevent the suspension or cancellation of your commercial driver's license. Illinois CDL traffic tickets must be handled accordingly, often requiring a reduction of the charge (moving violation to non-moving violation), or trial where appropriate. Contacting an experienced Illinois CDL traffic ticket attorney is essential. Please visit our CDL section for more information.