Fleeing and Eluding a Police Officer
Fleeing or Attempting to Elude the Police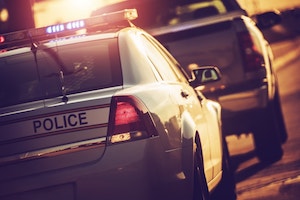 Being pulled over by a police officer can be a frustrating and, sometimes, frightening experience. But, once directed to bring your vehicle to a stop, it is always best to keep calm and pull over in a safe place. You may have seen suspects on television or YouTube videos attempting to outrun and elude the police. These chases are extremely dangerous, sometimes resulting in fatal collisions.
What happens to those who don't pull over? In Illinois, you can be arrested and charged with Fleeing or Attempting to Elude a Police Officer.
In Illinois, fleeing from a police officer is a criminal offense with serious potential consequences. If you don't cooperate when you are directed to pull you over by a police officer, you face penalties including the suspension of your driver's license, high fines, and even jail time.
What Does the Law Require?
Section 11-204 of the Illinois Vehicle Code requires that you comply when a police officer directs you with an audible or visual signal to stop your vehicle. The signal may be by hand, voice, siren, red or blue light.
The law requires that the officer giving the signal be in a police uniform. If the officer is driving a vehicle at the time the stop is initiated, the vehicle must display illuminated oscillating, rotating or flashing red or blue lights in addition to an audible horn or siren, which would indicate that the vehicle is an official police vehicle.
Penalties for Fleeing and Eluding Police in Illinois
Fleeing or attempting to elude the police is a criminal offense under Illinois law. This offense is typically charged as a Class A misdemeanor. The maximum penalty is up to 1 year in jail and a $2,500.00 fine plus mandatory court costs.
If you are convicted of this offense, the Illinois Secretary of State will suspend the offender's driver's license for 6 months. A second offense will result in 1-year suspension.
Fleeing and eluding the police can be charged as a Class 4 felony for a 3rd or subsequent offense, punishable by one to three years jail time and a $25,000 fine.
Aggravated Fleeing and Eluding
Furthermore, this offense can be charged as a Class 4 felony if any of the following also occur at the time of the offense:
The offender drives 21 mph or more over speed limit
The offender causes bodily injury to any individual
The offender causes property damage in excess of $300
The defendant disregards more than two (2) or more traffic control devices (i.e. stop sign, stop light)
The offender conceals or alters the vehicle's registration plate.
A conviction for aggravated fleeing and eluding will result in a revocation of the defendant's driver's license. A second or subsequent offense may be charged as a Class 3 felony. A vehicle used in commission of the offense is subject to seizure and forfeiture.
Possible Defenses to Fleeing and Eluding the Police
Even though you've been charged with a crime, it doesn't mean you are guilty. Possible defenses include:
Lack of Intent – You didn't know the police were pursuing you.
Threats – You were forced to evade due to threats.
Mistaken Identity – You own the car, but you weren't driving.
Necessity – You were in an emergency situation and you couldn't stop.
How we can Help
It is always best to seek the legal representation of an experienced lawyer when charged with a criminal offense. If you've been charged with Fleeing and Eluding in Illinois, contact the defense attorneys at The Davis Law Group, P.C.
The legal team at The Davis Law Group, P.C. has been defending the people of Illinois against traffic-related offenses for decades. A conviction can have severe consequences on your family, career and life in general. The lawyers at The Davis Law Group, P.C. understand the confusion, uncertainty, and fear that you are facing.
Our Illinois traffic defense lawyers will review the charges against you and ensure that you understand the options available to you. At The Davis Law Group P.C, we offer a free consultations to prospective clients. Contact us today to learn more about our services.