Open Container & Illegal Transportation of Alcohol in Illinois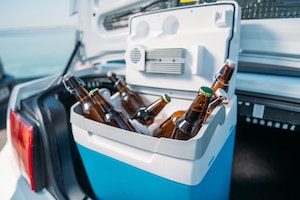 What is Illegal Transportation of Alcohol in a Motor Vehicle?
Under 625 ILCS 5/11-502 of the Illinois Vehicle Code, it is illegal for any driver to transport, carry, possess or have any open alcohol container in the passenger area of any motor vehicle upon a highway in Illinois. Open alcohol includes, but is not limited to, open beer, wine, liquor and champagne. Illegal transportation of alcohol is also known as the 'open alcohol law' or 'open container law'.
Passengers of vehicles may also be charged with a violation of this law. The only exception relates to the possession of open alcohol in the passenger areas of limousines, chartered buses, and motorhomes or mini motorhomes. The container of alcohol must be separated from the driver of the vehicle by a partition. Alcoholic beverages must remain in their original container with the seal unbroken if transported in the passenger area of the vehicle. If you choose to transport an open container of alcohol, it must be secured in the trunk of your vehicle to avoid breaking the law in Illinois.
Being unaware or simply forgetting about the alcohol is not a legal defense. Similarly, the law does not consider whether you recently consumed any amount of alcohol. In fact, you can still be charged if the alcohol was left in your vehicle days, weeks or months ago.
What are the Penalties for Illegal Transportation of Alcohol?
Possession or transportation of open alcohol in a motor vehicle can have a serious impact on your driver's license if you were the driver of the vehicle rather than a passenger. Under Illinois law, if you are under the age of 21 at the time of the violation, the Illinois Secretary of state will impose a 12-month driver's license suspension for a first conviction of this offense.
The Secretary of State will also impose a 12-month license suspension if you are 21 years of age or older and you are convicted of a second time for this offense within one year. If you are convicted a third or subsequent time with the offenses occurring within a 12-month period, your driver's license will be revoked. There are additional penalties if you have a prior suspension or revocation within the past seven years.
Along with these possible license consequences, a violation of the Illinois open container law will subject a driver to high potential court costs, fines and auto insurance rate increases. It is punishable by a fine of up to $1,000.00. Other conditions such as community service may also be imposed by the judge. The offense itself carries 25 points on your driving record.
Contact Our Defense Attorneys
The defense attorneys at The Davis Law Group, P.C. provide legal representation to clients charged with Illegal Transportation of Alcohol throughout the Chicago area including Cook County, Lake County and DuPage County.
If you have received a ticket in Illinois for Transportation or Possession of Alcohol in a Motor Vehicle, contact our traffic lawyers today to discuss the specific events surrounding the incident.
Avoiding a conviction on your driving record is our top priority and, oftentimes, these violations can be contested in court. While evidence of what the police officer viewed in 'plain sight' may be used against you in court (such as an open container of alcohol), the police officer must have consent or probable cause when conducting a search of your vehicle.
Contact the traffic attorneys at The Davis Law Group, P.C. to review your case today by filling out our contact form or calling us at (847) 390-8500. We look forward to discussing your case.