Running a Red Light or Stop Sign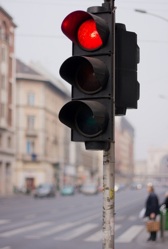 Red Light
Illinois law (625 ILCS 5/11-305 and 306) requires drivers facing a steady red signal to stop at the clearly marked stop line or, if no line exists, before entering the crosswalk. If a clearly marked line or crosswalk does not exist, the driver must stop before entering the intersection. The vehicle must remain standing until an indication to proceed is shown.
Stop Sign
Illinois law (625 ILCS 5/11-1204) requires drivers to obey all stop and yield signs. Drivers must stop at any intersection with a stop sign before entering the crosswalk or at the clearly marked stop line. If there is neither a crosswalk or clearly marked stop line, the driver must stop at the point nearest the intersection roadway where the driver is able to view approaching traffic. There is an exception when directed to proceed by a police officer or traffic control signal.
Along with a variety of other moving violations, convictions for red light and stop sign tickets can result in a driver's license suspension and increased insurance rates. The attorneys at The Davis Law Group, P.C. handle traffic offenses throughout Cook, Lake, DuPage and surrounding counties. Feel free to explore our website and contact us to discuss your case.
Client Reviews
Mr. Brandon Davis, THANK YOU for everything you did! I know you are a busy man. You far exceeded our expectations! I am so glad my wife went with her "gut". God Bless you. Again, thank you Brandon. GOD BLESS,
M.C. and L.C.
Just wanted you to know all was completed today. Thank you very much for your efforts to allow me to obtain my driving privileges once again. This has been a stress reliever to say the least. Thank you again for your efforts and I will be sure to recommend you in the future.
T.Q.
Hi Brandon, Thank you again so much for everything. You made that whole situation nearly painless. I sincerely hope I never require your services again but I will definitely recommend you to anyone who does. All the best,
K. L.
Hi Larry, I just wanted to let you know that I got my Class D driver's license back. Thanks for your help, I couldn't have done it without you. You're the best and I'll recommend your law firm to anyone and everyone I can. Thanks again,
T.S.
Hello, I wanted to thank you for all the help in restoring my driving privileges. It was a long road here, but for the first time since 2006 I have a license. I assure you I will have no need for your services again, however I will be sure to refer anyone in my situation to you. Thank you for all your help, it is life changing. Best,
M.R.