Failure to Signal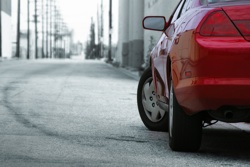 The use of turn signals is covered in the Illinois Vehicle Code under 625 ILCS 5/11-804. In a business or residence district, the statute requires that a turn signal is given continuously during not less than the last 100 feet traveled by the vehicle before turning right or left. Outside a business or residence district, the statute requires that the signal be used continuously during the last 200 feet before the turn. Among other signaling conditions, Illinois law requires that a driver may only make a turn when it can be made with reasonable safety.
The Davis Law Group, P.C. represent clients on a wide range of traffic tickets including violations for Failure to Signal. Failure to Signal is a moving violation under Illinois Secretary of State rules. Convictions on moving violations can result in driver's license suspensions and insurance increases. Feel free to contact our attorneys to discuss your case.
Client Reviews
Mr. Brandon Davis, THANK YOU for everything you did! I know you are a busy man. You far exceeded our expectations! I am so glad my wife went with her "gut". God Bless you. Again, thank you Brandon. GOD BLESS,
M.C. and L.C.
Just wanted you to know all was completed today. Thank you very much for your efforts to allow me to obtain my driving privileges once again. This has been a stress reliever to say the least. Thank you again for your efforts and I will be sure to recommend you in the future.
T.Q.
Hi Brandon, Thank you again so much for everything. You made that whole situation nearly painless. I sincerely hope I never require your services again but I will definitely recommend you to anyone who does. All the best,
K. L.
Hi Larry, I just wanted to let you know that I got my Class D driver's license back. Thanks for your help, I couldn't have done it without you. You're the best and I'll recommend your law firm to anyone and everyone I can. Thanks again,
T.S.
Hello, I wanted to thank you for all the help in restoring my driving privileges. It was a long road here, but for the first time since 2006 I have a license. I assure you I will have no need for your services again, however I will be sure to refer anyone in my situation to you. Thank you for all your help, it is life changing. Best,
M.R.