Street Racing/Drag Racing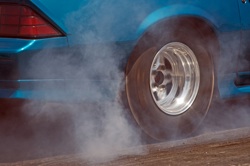 The defense attorneys at The Davis Law Group, P.C. commonly represent clients facing Street Racing/Drag Racing charges throughout the Chicagoland area. Under Illinois law (5/11-506), street racing (formerly known as drag racing) has six definitions:
1) The operation of 2 or more vehicles from a point side by side at accelerating speeds in a competitive attempt to outdistance each other; 2) or the operation of one or more vehicles over a common selected course, each starting at the same point, for the purpose of comparing the relative speeds or power of acceleration of such vehicle or vehicles within a certain distance or time limit; 3) or the use of one or more vehicles in an attempt to outgain or outdistance another vehicle; 4) or the use of one or more vehicles to prevent another vehicle from passing; 5) or the use of one or more vehicles to arrive at a given destination ahead of another vehicle or vehicles; 6) or the use of one or more vehicles to test the physical stamina or endurance of drivers over long-distance driving routes
A driver convicted of street racing is guilty of a Class A misdemeanor for a first offense and subject to a minimum fine of $250 (second or subsequent offense carries a $500 minimum fine).
However, while many people understand that street racing/drag racing is a criminal charge, they do not know that a conviction results in a loss of driving privileges. In fact, a conviction for street racing will result in a driver's license revocation by the Illinois Secretary of State. A license revocation lasts for an indefinite term, as opposed to a license suspension which terminates after a set period of time. In order to ever regain driving privileges, the individual must appear for an administrative hearing before the Secretary of State. At the hearing, the individual must demonstrate that they are not a risk to public safety. The Secretary of State may require that the individual drives on a restricted driving permit (RDP) before allowing full reinstatement of their driving privileges.
As a result, avoiding a conviction on a street racing/drag racing charge is a top priority. Court Supervision is a non-conviction disposition in Illinois, which not only prevents the entry of a license revocation but prevents the offense from appearing on the driver's public record. Many times, we are contacted by clients that previously pled guilty to street racing without representation or an understanding of the potential license consequences. Our attorneys may be able to file a motion to reopen the case in an effort to work out a more favorable disposition. If successful, this process may result in the removal of a conviction and rescission of the revocation.
It should be noted that under this statute, it is a Class B misdemeanor for the owner of a vehicle to allow their vehicle to be used for street racing. A second or subsequent violation may be charged as a Class A misdemeanor. Furthermore, a driver convicted of street racing involving great bodily harm or permanent disability or disfigurement of another may be charged with Aggravated Street Racing, a Class 4 felony, punishable by a term of imprisonment of 1-12 years.
The traffic attorneys at The Davis Law Group, P.C. handle street racing charges in Chicago and throughout Illinois. Our attorneys also represent clients before the Illinois Secretary of State. Our practice extends primarily to Cook County, Lake County and DuPage County. Feel free to contact us if you have been charged or your license has been revoked for street racing/drag racing.
Client Reviews
Mr. Brandon Davis, THANK YOU for everything you did! I know you are a busy man. You far exceeded our expectations! I am so glad my wife went with her "gut". God Bless you. Again, thank you Brandon. GOD BLESS,
M.C. and L.C.
Just wanted you to know all was completed today. Thank you very much for your efforts to allow me to obtain my driving privileges once again. This has been a stress reliever to say the least. Thank you again for your efforts and I will be sure to recommend you in the future.
T.Q.
Hi Brandon, Thank you again so much for everything. You made that whole situation nearly painless. I sincerely hope I never require your services again but I will definitely recommend you to anyone who does. All the best,
K. L.
Hi Larry, I just wanted to let you know that I got my Class D driver's license back. Thanks for your help, I couldn't have done it without you. You're the best and I'll recommend your law firm to anyone and everyone I can. Thanks again,
T.S.
Hello, I wanted to thank you for all the help in restoring my driving privileges. It was a long road here, but for the first time since 2006 I have a license. I assure you I will have no need for your services again, however I will be sure to refer anyone in my situation to you. Thank you for all your help, it is life changing. Best,
M.R.