Theft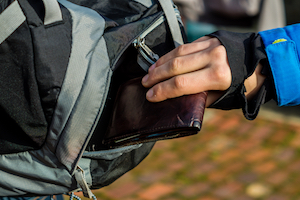 The criminal defense attorneys at The Davis Law Group, P.C., have the experience and knowledge required to handle any allegation of theft, whether misdemeanor or felony, that you may be facing in Illinois. Theft charges involve the unlawful acquisition of property from an individual or entity. Defense of a charge of theft requires an experienced attorney who can effectively navigate through the particular local rules and procedures at the courthouse where your case is pending.
Theft from an individual is charged as a Class A Misdemeanor if the item(s) value is under $500.00. If the value exceeds $500.00, the theft can be charged as a felony by the prosecution. Theft from a school, place of worship or government property of up to $500 in value may be charged as a Class 4 Felony. The dollar amounts indicated include the total value of goods obtained by the defendant as part of a series of acts with the necessary mental state, whether continuous or intermittent, over a period of one year.
Our attorneys thoroughly examine the evidence we subpoena to determine whether or not your case should be taken to trial or challenged at a pre-trial motion hearing. In the event that the evidence is not favorable to the defendant, theft cases are often resolved favorably through plea negotiations. Many times, the complaining witness (victim) of the theft merely wants to be monetarily restored, and does not wish to testify against the accused. In this instance, it may be possible to arrange for a payment of restitution to the victim in exchange for a dismissal of the charges, or in conjunction with some form of a deferred prosecution. The ultimate dismissal of the charge provides our client the ability to file for an expungement of the arrest.
For some individuals, a disposition of the case may result in Court Supervision. This is also a favorable outcome because Court Supervision is not a misdemeanor conviction under the Illinois Code of Criminal Procedure and prevents an entry on your public criminal record. For those that have a more significant criminal history, other sentencing options include conviction sentences, i.e. Conditional Discharge (which is similar to Probation but the Defendant is not assigned a probation officer), Probation (where the Defendant is monitored by the Adult Probation Department), or a county jail sentence that can range anywhere from one (1) day to three-hundred sixty-four (364) days in custody for misdemeanor offenses.
Individuals that have no current immigration status or who are working to receive legal permanent residency (green card) should be mindful that allegations of theft (and retail theft) are considered crimes of moral turpitude and may have an adverse effect on pending or future immigration proceedings. In these instances, our lawyers may take action to encourage the prosecutor to amend the theft or retail theft charge to an offense that does not pose the same immigration concerns. We are mindful of our client's particular circumstances and work diligently to achieve the best outcome for our client's specific needs.
Felony allegations of theft are generally probation eligible. However, a defendant with a long history of theft convictions and/or other criminal convictions may be sentenced to an Illinois State Penitentiary sentence if the matter results in either a finding of guilty after a trial or a plea of guilty.
The criminal defense attorneys at The Davis Law Group, P.C. have years of experience handling matters involving theft, and are familiar with local courthouse procedures, the various Assistant State's Attorneys, Judges, and local Clerks of the Circuit Court throughout the Chicagoland area. Please contact us if you require legal assistance for any theft or other criminal matter throughout Illinois including Cook, Lake and DuPage Counties.